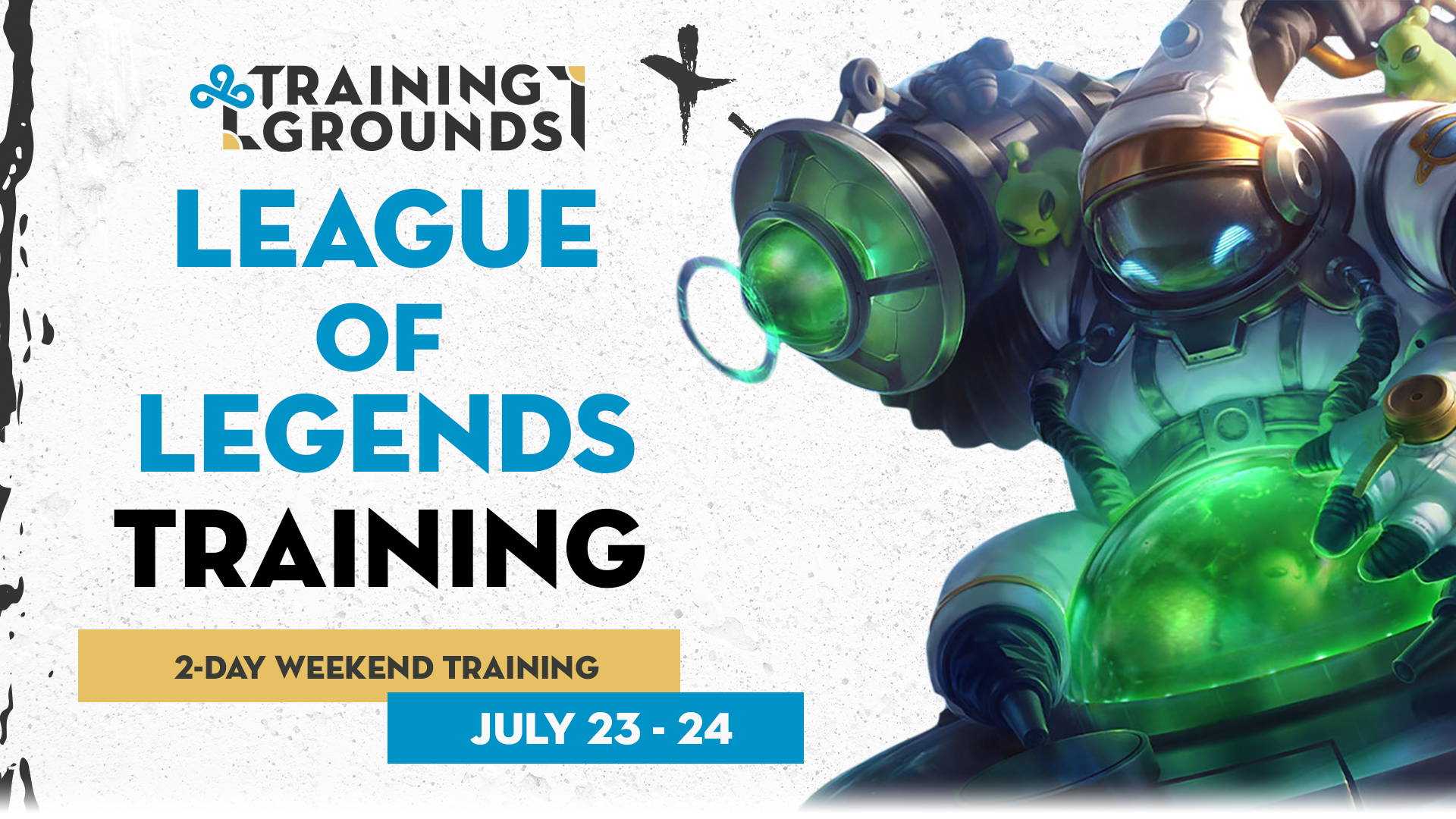 ADD A 4-WEEK CAMP AND SAVE $25!
(USE THIS CODE AT CHECKOUT: TGBUNDLE2022)

This 2-day Weekend Bootcamp is meant to get you started on the path to improvement for all levels of play. You will be sorted then assigned by role and rank into training groups. Over the course of the weekend you will train like the pros in an intensive 7-hour bootcamp (split over 2 days). These 2-day training sessions work great as a standalone experience but pair even better with our 4-week extensive training to give you the highest value. You will leave the weekend with tons of great information that you can then refine on your own and master!
Schedule :
Saturday 12pm - 3:30pm PACIFIC
Sunday 12pm - 3:30pm PACIFIC
Grouped with other players in your role

2 days of intensive training led by C9TG certified coaches

A masterclass each day focused on concepts directly related to your role

VOD review and recap

End of camp performance evaluation to track your improvement.

Accessible, affordable coaching from NA's top esports org.
What Makes Training Grounds Unique
In typical Cloud9 fashion, we take training to the next level.
We hire coaches from the top 2% of players in their game.
We use research-backed training methods to maximize your skill development.

We connect you with world-class esports knowledge and resources.
Some of the things you can expect to get from a Cloud9 Training Grounds experience:
Access Cloud9's premier esports training in mindset, mechanics, strategy, teamwork, and lifestyle.

All TG experiences come with learning from top-tier

C9TG coaches.

Improve your rank through

customized training programs

that develop the skills you need to succeed.

Live like a pro, competing in matches with live casters, referees, and fans.

Feature your best in-game clips on

C9's social media channels

and share them with thousands of

C9 fans and followers.

Join our growing Discord community and find growth-minded teammates and friends just like you.
Part of being a good coach is being a good player. Not only are C9TG Coaches ranked in the top 2% of their respective games, they are also the best at making YOU a great player and an ever better person. All C9TG coaches are trained and certified in the TG Way, a set of researched based coaching practices, including
Want the COMPLETE C9TG training experience? Consider upgrading to the bundle where you'll get a discount on our 4-week Extensive Training Program in addition to your 2-day Intensive Training Program. This is the best deal for people looking to fast-track their improvement. Just looking to get started on your path to Challenger, or looking for a short supplement to your own training regimen? Our 2-day Intensive Camps will have you covered!