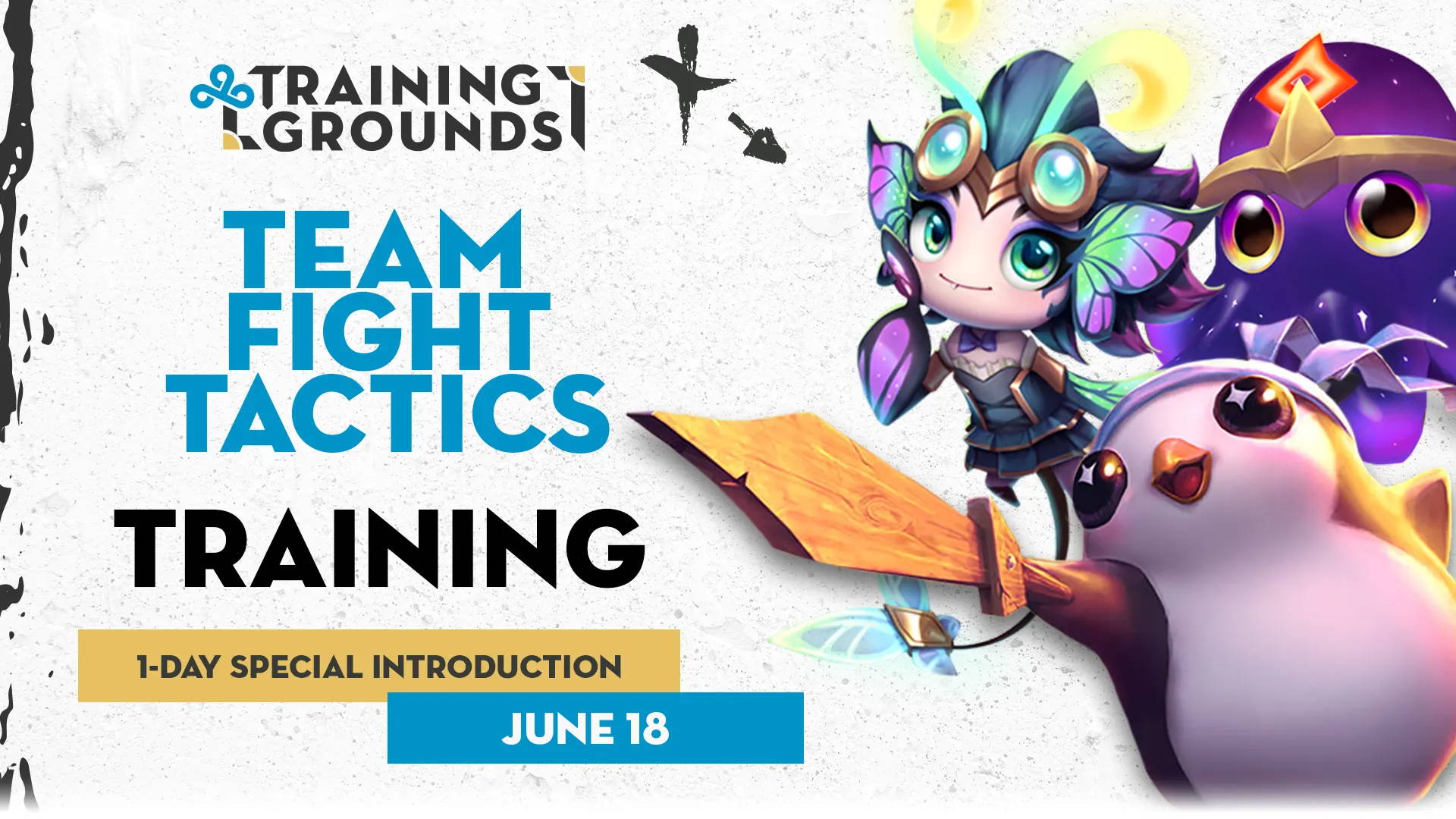 Add all 3 TFT sessions to your cart and save using this code:
TFTCOMBO2022
Details

 
Learn to master your economy by maximizing interest, maintaining streaks, and rolling like a pro.
Dive deep for two days into the specific techniques and strategies used by top players and learn to use them in your own games.
Get feedback on your individual gameplay and complete customized in-game practices to enhance your skill, no matter your rank. Led by our talented TG Certified Coaches, raise your level of play and gain knowledge of new set mechanics and compositions. Open to NEW AND RETURNING PLAYERS, this session will focus on managing economy, maintaining streaks and rolling like a pro, while also giving players a head-start on the new set-specific mechanics and compositions.


Schedule: 
Saturday June 18th
12pm – 3:30pm PST


Part 1 of a 3-Part Series
This Special Session is unique; we wanted to make this as open and accessible as possible to help more people learn about how fun AND competitive TFT can be. Do you have a desire to climb and learn even more? Do not worry, we have got you covered! Consider our 3-part TFT Training Series which includes everything you need to improve in this new set:


6/18 Part 1 (Economy, Rerolling, Streaks)

7/2-7/3 Part 2 (Positioning, Item Choices, Team Strategy)

716-7/17 Part 3 (Strongest Board, Path to Endgame, Transitioning/Flexibility)




Purchase the 3-part Series as a bundle and manage your economy IRL with a discount! (use this code at checkout: TFTCOMBO2022)
Instruction from a top-ranked TFT Player and C9TG Certified Coach  

Structured, educational classes covering strategy, and improvement techniques.

Feedback and insight from your coach to help areas of growth.  

Open format Q/A and discussion with coaches and other like-minded players.

An accessible way to learn the game from scratch OR a great intro to the new set changes for experienced players.
What Makes Training Grounds Unique
In typical Cloud9 fashion, we take training to the next level.
We hire coaches from the top 2% of players in their game.
We use research-backed training methods to maximize your skill development.

We connect you with world-class esports knowledge and resources.
Some of the things you can expect to get from a Cloud9 Training Grounds experience:
Access Cloud9's premier esports training in mindset, mechanics, strategy, teamwork, and lifestyle.

All TG experiences come with learning from top-tier

C9TG coaches.

Improve your rank through

customized training programs

that develop the skills you need to succeed.

Live like a pro, competing in matches with live casters, referees, and fans.

Feature your best in-game clips on

C9's social media channels

and share them with thousands of

C9 fans and followers.

Join our growing Discord community and find growth-minded teammates and friends just like you.
Part of being a good coach is being a good player. Not only are C9TG Coaches ranked in the top 2% of their respective games, they are also the best at making YOU a great player and an ever better person. All C9TG coaches are trained and certified in the TG Way, a set of researched based coaching practices, including
This training is for everyone. Expect training to focus on positioning, strategic item choices, and clear team strategy, while also getting a deep understanding of the strategy and compositions unique to that current set.