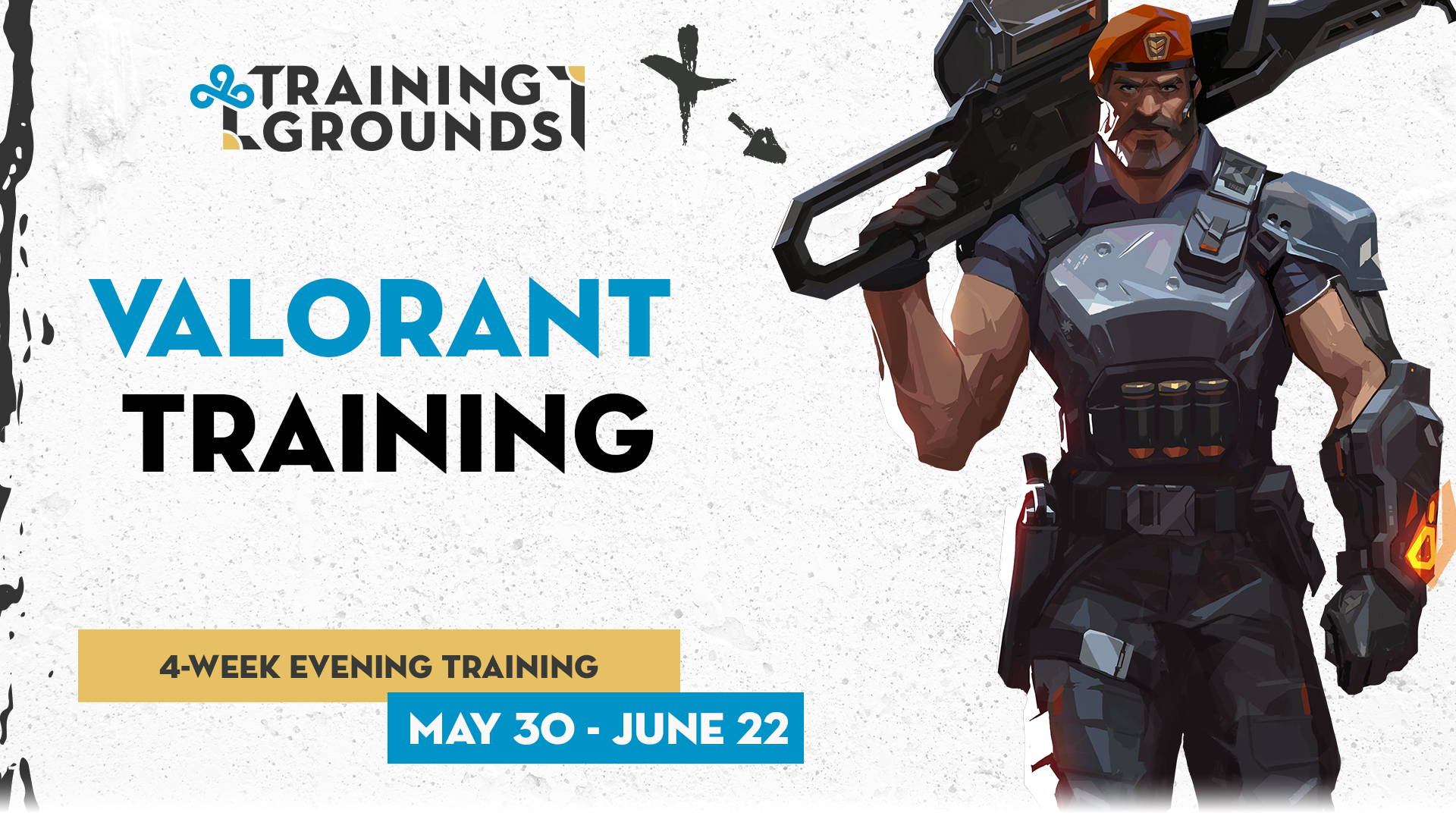 ADD 2-DAY CAMP AND SAVE $25!
(USE THIS CODE AT CHECKOUT: TGBUNDLE2022)

These 4-week training sessions will take you and your teammates through Training Grounds' elite training experience led by our talented TG Certified Coaches to raise your level of play. We have learned a great deal from our Cloud9 players and past training experiences about what makes a bootcamp great, so we're excited to offer this program as the PREMIERE C9TG experience. Signup with your friends/team or come alone and we will assign you to a group of similarly ranked players! *
Schedule:
Tuesday and Thursday (Note that this 4-week session is not on M/W due to Independence Day)
5pm - 7:30pm PST (every week for 4 weeks)
*We will always do our best to assign you to a team that meets you where you are at but we can't guarantee this. If you feel that you've not been matched correctly, reach out and we will make sure you get something great out of the experience!
Placed on a team of similarly ranked players.  

4 weeks of sessions managed by our TG Certified Coaches.

Structured, educational classes covering strategy, teamplay, and improvement techniques.

Curriculum selected by your coach to meet your group where they are at.

Weekly feedback and insights from your coach to help areas of growth.  

A 1:1 coaching session tailored to your individual needs and skill level.

Face off against other TG teams at the end of the training period and have your games streamed and CASTED on our C9TG Twitch Stream!

End of training performance evaluation to track your improvement.

A Training Gounds t-shirt to remember your time with us!
What Makes Training Grounds Unique
In typical Cloud9 fashion, we take training to the next level.
We hire coaches from the top 2% of players in their game.
We use research-backed training methods to maximize your skill development.

We connect you with world-class esports knowledge and resources.
Some of the things you can expect to get from a Cloud9 Training Grounds experience:
Access Cloud9's premier esports training in mindset, mechanics, strategy, teamwork, and lifestyle.

All TG experiences come with learning from top-tier

C9TG coaches.

Improve your rank through

customized training programs

that develop the skills you need to succeed.

Live like a pro, competing in matches with live casters, referees, and fans.

Feature your best in-game clips on

C9's social media channels

and share them with thousands of

C9 fans and followers.

Join our growing Discord community and find growth-minded teammates and friends just like you.
Part of being a good coach is being a good player. Not only are C9TG Coaches ranked in the top 2% of their respective games, they are also the best at making YOU a great player and an ever better person. All C9TG coaches are trained and certified in the TG Way, a set of researched based coaching practices, including
Want the COMPLETE C9TG training experience? Consider upgrading to the bundle where you'll get a discount on our 4-week Extensive Training Program in addition to your 2-day Intensive Training Program. This is the best deal for people looking to fast-track their improvement. Just looking to get started on your path to Radiant, or looking for a short supplement to your own training regimen? Our 2-day Intensive Camps will have you covered!