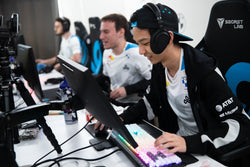 Coach Development Program - Invoice Payment
FITGMR Coach Development Program

The CDP is a cutting-edge initiative that brings together the expertise of esports industry leaders to empower coaches and in-game leaders, both current and aspiring. This comprehensive program is tailored to equip you with the knowledge and skills necessary to create, manage, and lead high-performing esports teams.


In-depth curriculum developed by Cloud9 and FITGMR experts.
20 hours of LIVE intensive training.
Price: $499 per person.
FITGMR Training Grounds Certification upon program completion.

Schedule
October 9th - November 2nd, 2023
Every Monday & Thursday from 2pm - 5pm EST for 4 weeks.

This is a college-level course. You can expect nothing short of top-notch education, rigorous training, and real-world insights that will set you apart in the esports industry.