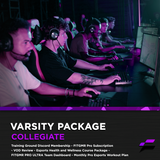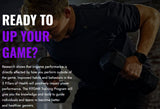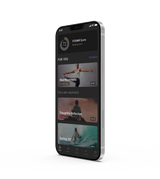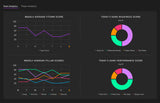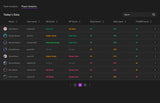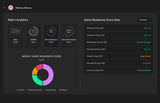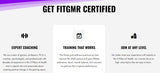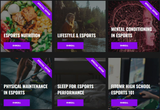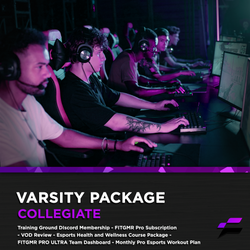 VARSITY Collegiate Package
Varsity Collegiate Training Package
Training Grounds Discord Membership: Daily virtual training, game-specific master classes, scrimmages, industry events, and more all run by professionally trained & certified Cloud9 Training Grounds Coaches. Grants membership access to 10 collegiate players for 4-months.

FITGMR Pro Subscription: Get daily, real time tracking of all your vital game readiness and game performance drivers. Take courses on FITGMR 5 Pillars of Health to boost your FIT Score and maximize in game performance. 

Grants 

membership access to 10 collegiate players for 4-months.



Professional VOD Review & Analysis: Professionally trained Cloud9 Training Grounds coaches will conduct a thorough review for 4 of your VOD's. They will provide a comprehensive analysis document for your coach and team. These reviews will focus on both individual and team play to create improvements! 

Esports Health & Wellness Course Package: The FITGMR Training Program is an online learning system on the 5 Pillars of Esports Health. These courses will show you how to develop esports teams and individuals into healthier versions of themselves by providing the framework so you can focus on optimal performance, productivity, and longevity for your players. Grants membership access to 10 collegiate players for 4-months. 
FITGMR PRO ULTRA Team Dashboard: Track and optimize your players' performance with the FITGMR Team Dashboard, accessible on the FITGMR mobile app! Players will input various health and wellness stats, including sleep, mental fitness, physical fitness, and more! The dashboard helps to identify and resolve issues with individual and team performance. Maximum of 10 players per team dashboard. Grants membership access to unlimited Team Dashboards with 10 seats in total. Additional seats will cost $24.99 each.
5-Day Custom Team Bootcamp: Get the most out of your competitive team play with a custom bootcamp designed just for you. We tailor bootcamps to meet you and your team where you're at, no matter the skill level and experience. Our bootcamps have a proven record of improving solo queue performance and team play. Grants access to 1 team with a maximum team size of 10 players.

Monthly Pro Esports Workout Plan: Every month you will receive the latest professional esports workout plans from teams, such as but not limited to: Cloud9, Astralis, Ghost Gaming, and more, in order to physically train and prepare your team like the best. All these workout plans will be presented in an easy to digest manner for you to take your team to the next level, both in skill and fitness.
This is a Spring package offering that may be redeemed any time between January - April, 2023. The package duration is 4-months long from the redeemed date.